If you're like me, you'll do anything to keep your asthma symptoms at bay – and you're wondering if air purifiers for asthma actually work.  Thankfully, the short answer is: yes, they do – but some types are MUCH better than others for asthma.
Studies show that the right air filters can really help us asthmatics, and I know from personal experience that I feel better when my trusty air purifier is running.
(Ready to jump right in? Skip to why I chose the Honeywell HEPA here, and to a list of other good asthma-fighting air filters here).
Asthma and allergies are the bane of many people's lives. Getting your breathing under control without the constant use of inhalers and other medications is tricky, to say the least.
So how do air purifiers help? These portable devices suck in dirty air and blow out clean air – pretty simple. I was curious to see if filtering the air could be a solution for my asthma and allergy symptoms, so I thought I'd give one a try.
And I'm so glad I did, because my trusty air purifier has had a big impact on my asthma. It didn't completely replace my inhaler all by itself, but with lifestyle changes it was a big part of a cure (learn more about how I quit ventolin completely here).
Good air purifiers for asthma come in all shapes, sizes and prices. The one I settled for is a mid-range price model that I think is great for anyone with allergies or asthma on a budget.
My Honeywell HEPA Allergen Remover (link to Amazon) even helps me live with a cat, despite my asthma! And since I live on the west coat, it was also a lifesaver recently when dealing with all wildfire smoke (see my guide to wildfire smoke and asthma here).
The key is to find the right air filter for you and your living space, but be careful. There are different types of air filtration systems, and some are DEFINITELY better and worse for asthmatics. I hope by breaking out the different research below, I can help you find the right one.
Why Use Air Purifiers For Asthma Relief?
Millions of people around the world suffer from asthma and/or allergies (like I do). And we asthmatics know that air quality is a major factor in our symptoms. So we actively avoid things like pollution, wildfire smoke and other irritants  … but often only when we're outdoors.
We can fall into the trap of not thinking about the air quality in our homes, assuming that if we don't smoke cigarettes indoors then our air is clean. Unfortunately, the opposite is probably true – especially if you live in an older home or apartment built using questionable or unknown building materials.
That's where air purifiers come into play. When properly used, they allow you to make your home a little bubble of clean, fresh air. If you choose the right filter, you can notice the difference in the smell and feel of your air within hours – I know I did.
At the end of the day, when you have asthma, your lungs have to work harder than normal. So by cleaning the air before it even gets to your lungs, you're giving them a leg up. And I find it's simple, healthy small steps like this that ultimately can have profound impact on the disease.
How Air Purifiers Work
(And Which Are Better And Worse For Asthma!)

In one sense, all air filters have the same goal: dirty air goes in and clean air blows out. But each air purifier works differently and covers a different amount of space, and there are many different types. This is why it's important for us asthmatics to do our research, because it turns out some are much better at treating our symptoms that others.
There are two major ways that purifiers clean the air. One method is HEPA air purification and the other is Ionic generating air purification.
Ionic air purification works by producing ions and blowing them out into the air to destroy and clean out any impurities. This can be an effective method of air purification for some.
However, many studies have shown that ionic air purification is actually detrimental to those with breathing disorders like asthma. Apparently, this kind of purification actually emits "ozone" (as in, what's in the ozone layer) which is considered a respiratory irritant.
Therefore, according to my research, Ionic air purification is off the table for anyone dealing with respiratory issues or concerned about the long term effects of ozone.
Thankfully, HEPA air filters work very differently than ionic methods. HEPA filters push air through a series of very fine filters in order to remove harmful particles before you breathe them in.
The HEPA method is ideal for everyone, especially those with respiratory issues, because it doesn't add anything to the air. Instead, it takes away the bad stuff before it gets a chance to enter your lungs – making it a great air purifier for those with asthma.
And the research backs me up. The National Institute of Health has done several studies on HEPA filters which show that these unassuming little machines are actually quite powerful and effective. Here's a few:
Enhancing indoor air quality –The air filter advantage
Effectiveness of Air Filters and Air Cleaners in Allergic Respiratory Diseases: A Review of the Recent Literature
Effects of HEPA Air Cleaners on Unscheduled Asthma Visits and Asthma Symptoms for Children Exposed to Secondhand Tobacco Smoke
Effectiveness of air purifier on health outcomes and indoor particles in homes of children with allergic diseases in Fresno, California
Ultimately I chose a HEPA filter from the Honeywell Allergen Series (link to Amazon). It sucks air in through a fine activated carbon mesh filter and blows it out through 2 sets of very fine paper air filters.
I can tell that my HEPA filter works and is effective because when it's running, the air smells different when I walk in my front door, especially when the windows have been closed.
I can also attest to the improvements I've seen in my asthma and allergy symptoms since I purchased it about a year ago. I have far fewer daytime and nighttime episodes and my allergies are generally more under control.
My HEPA Air Filter
Like I mentioned above, I use a Honeywell HPA160 HEPA Tower Allergen Remover. It's a great filter at a great price. I also like that the replaceable filters are easy to switch out and not too expensive. This makes it easy to keep it running at maximum efficiency for the cleanest air possible.
I also like that my purifier can handle rooms up to 170 square feet, and 5 air changes per hour, while still remaining small enough that I can move it from room to room depending on what I'm doing that day.
(Air changes per hour refers to the total amount of air that can be filtered each hour. In this case, it's 170 square feet worth of air per hour. When choosing your own air filter, it's very important that you get one that fits your space).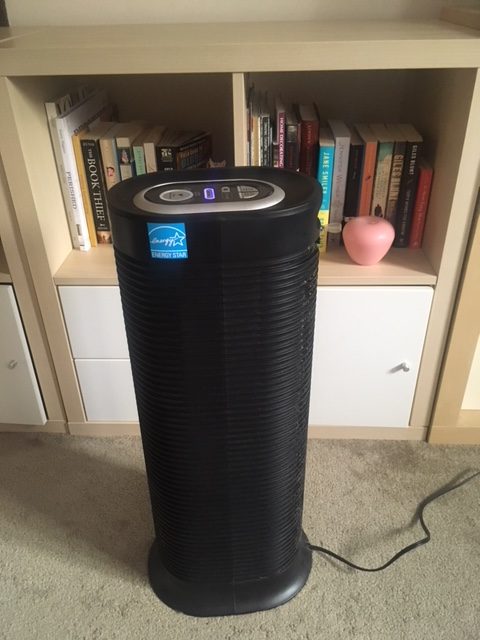 According to its Amazon listing, it helps capture 99.97% of microscopic allergens such as mold, fungi, VOCs, certain bacteria, dust, pollen, smoke and pet dander. It also captures common household odors and harmful smoke particles. It's also Energy Star certified with 4 air cleaning levels and an auto-off timer. (I never noticed a difference on my energy bill, although I admit I wasn't looking that closely – even though I keep this running pretty much 24-7).
As you can see, it's a great little unit that filters out everything I'm concerned about. It even makes it easier to live with Lily, my cat! (Learn more about how I live with a cat and asthma here).
It's also perfect for my space. And there are more in this line for different space needs – you can find more at this link.
It was also reasonably priced, which was important to me. And the replaceable HEPA filters are fairly cheap as well and shouldn't break the bank. It's a small price to pay to drastically improve the air quality in my apartment.
There are multiple options from the Honeywell series depending on the size of your room. So if you'd like to learn more, start with the well-reviewed Honeywell HPA160 True HEPA and then find one in the series that will work with your space (noting that if you have a larger house, you might want to get more than one filter, no matter what type you go with).
Other Good Air Purifiers For Asthmatics
I'm no shill here. Just because the Honeywell HEPA is the best for me right now, that doesn't mean it's the best one for everyone. Some people may want different features like "smart filters" or units that can handle much larger spaces.
You might also want a smaller, cheaper unit for a small space or budget. It's really up to you as long as you choose a HEPA filter with certifiable results.
Below I've listed a few alternative air purifiers in case you fit the above description. I've tried to keep most of them in the $50-$150 range for people with all different budgets and requirements. Please note that I've done my best to accurately describe them, but be sure to double check their Amazon listings before make any final decisions. 
Air Filters For Asthmatics On A Budget:
GermGuardian AC4100 3-in-1 Desktop Air Purifier

This little number is an 'Amazon's Choice' and comes in at a great price. Great for small spaces.
hOmeLabs 3 in 1 Ionic Air Purifier with HEPA Filter 
This HEPA filter is small enough to carry in a suitcase, and very reasonably priced. Note that it does only filters a small space – although it should filter that small space well.
Air Filters For Asthmatics With Sensitive Ears:
PureZone 3-in-1 True HEPA Air Purifier
This 'Amazon's Choice' air purifiers promises 'Whisper-Quiet Operation' while still filtering out all those bad guys you don't want to breathe in. Very well reviewed and filters up to 200 square feet.
Hamilton Beach Air Purifier with Permanent HEPA Filter
This air filter also promises to be ultra quiet. Note that this model uses a vacuum-clean permanent HEPA filter (no refills!) so this would also be a good choice for those on a strict budget.
Air Filters For Asthmatics With Sensitive Noses:
Balight Hepa Air Purifier Portable Travel Air Purifier 
On an essential oil kick? This machine also comes with an essential oil tank – pretty cool.
Air Filters For Geeky Asthmatics Who Like Smart Technology
GermGuardian CDAP4500BCA 22" 4-in-1 WiFi Smart Air Purifier
This 'Amazon's Choice' filter is wifi enabled which lets you monitor and control your air quality from anywhere, 24-7. This and other smart features make it a nice choice, while staying reasonably priced. Not gonna lie – I kinda want this one!
Winix WAC9500 Ultimate Pet True HEPA Air Cleaner with PlasmaWave Technology
This filter uses PlasmaWave technology to attack pollutants at a molecular level to neutralize viruses, bacteria, odors, and gases in the air, while employing Smart Sensors to automatically adjust your settings to meet the needs of your environment. A little more expensive than most of these others but still a good value. 
Air Filters For Asthmatics Looking to Splurge
AIRMEGA 400S The Smarter App Enabled Air Purifier 
This Amazon Certified machine works with Amazon Alexa (!) and covers 1560 square feet (!).  It's got tons more powerful features … and doesn't it just look cool? 🙂 
I hope that you've found this guide to air purifiers for asthma helpful. I believe that my HEPA air filter has been really beneficial for my asthma, and I hope you'll find the same thing.
If you are considering purchasing an air purifier, please consider using the links above. This helps us keep our asthma blog going, at no extra charge to you. Thank you as always for your support!
And don't miss my Ventolin Abuse Guide and my 5 Easy Steps To Getting Off Albuterol article if you'd like even more tips for beating asthma. I went from taking my inhaler all day, every day (and all night, every night), to now only needing it when I'm reeeeeeally sick. I'd love to show you how I did it!
Related Posts: