If you're an asthmatic animal lover, you're probably wondering if cats and asthma mix.
The short answer is that, yes! There are several strategies you can follow, so that you can keep or get a beloved pet, even if someone in your family has asthma. You'll need to clean a lot more than normal, as well as keep your cat clean and possibly modify some of its behaviours. But if you're willing to do the work, it's do-able. 
If you'd like to jump right to my strategies for living with cats and asthma, click here.
Otherwise, first I'll share my personal experience having both puffers and puff-balls in the house.
Nick & Lily: An Asthmatic Love Story
I am an animal lover, from a family of animal lovers. And I desperately wanted a cat growing up, despite my asthma.
My family relented (pretty easily, I must say), welcoming a Siamese mix into the fold. We bonded, and this is no small thing.
I believe that stress reduction is a really important way to treat asthma naturally. And research shows that pets definitely reduce stress. 
I have no doubt that having my little guy to come home to as a child, and then to stick by me through the mean days of high school, was really beneficial for my whole life, including my asthma.
And while I admit, I wasn't doing a lot of the housecleaning, I saw that it wasn't too much of a struggle to keep the house clean enough to not let my cat have a significant impact on my asthma. 
So when my now-wife Emma and I got serious, one of the first things we did was head down to our local shelter (adopt, don't shop!), and we brought home Lily, the orange love of our lives. She's a handful, but she's worth it. 
But, it turns out that not only do I have asthma, I'm also allergic to cat dander. So we've had to take some specific steps to keep everyone breathing well through the cuddles. Here's what worked for our little family:
[/et_pb_text][/et_pb_column][/et_pb_row][et_pb_row _builder_version="3.25″ background_size="initial" background_position="top_left" background_repeat="repeat"][et_pb_column type="4_4″ _builder_version="3.25″ custom_padding="|||" custom_padding__hover="|||"][et_pb_text admin_label="whatworks" module_id="whatworks" _builder_version="3.27.4″]
Frequent Cleaning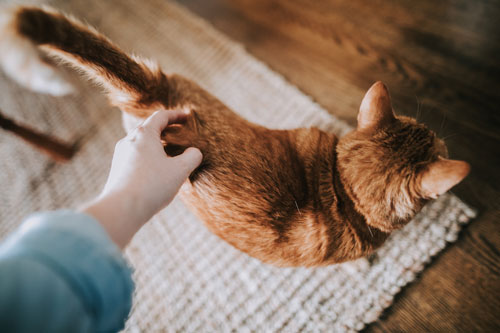 This one is probably a no-brainer. No one likes cat hair flying around, but for an asthmatic, it's a non-starter.
Not only do we have to vacuum multiple times a week, we've also learned that it made a huge difference when we finally invested in a good vacuum cleaner.
That's not to say you can't use a budget vacuum cleaner – in the earlier, broke-r days of our relationship, we used a cheaper one and it worked ok – we just had to vacuum more frequently.
And cat cleaning pro-tip: if you're selecting a cheaper vacuum, you want to stick with vacuums with bags. That's because bags help with suction – important for cheaper models. 
But a few years ago we invested in a Hoover WindTunnel T-Series Pet Vacuum, and it made a HUGE difference. It's specifically designed for pet hair, and it really works. (If you're considering getting an asthma-assisting vacuum, please consider using our Amazon link, as this helps us keep providing free asthma-fighting tips, at no extra charge to you!).
Learn More About The Hoover Pet Vacuum Here
Some people with severe asthma (or children with asthma) won't let their cats on the furniture or in the bedroom. But we like to let Lily rule her roost – she gets to go where she likes.
Since this is the case, we also have to make sure we keep our furniture clean, by removing hair often. You can also buy some anti-dander sprays which may be helpful.
And we also make sure to wash our bed sheets often (which, to be honest, we'd do with or without a cat). Some people will also invest in a mattress and pillow cover, although we haven't felt the need to go that route. 
Air Filter

I haven't seen this strategy on other guides to cats and asthma, but I think it's important. Maybe that's because every asthmatic house should have some air filters, whether there's a four legged inhabitant inside or not.
According to a recent study by the National Institutes of Health, portable room filters in the houses of asthmatics improved their bronchial reactivity, lung function and treatment requirements. 
So if you're gonna get a pet, please get an air filter, too.
I chose a Honeywell HEPA Allergen Remover because it specifically filters out allergens, including pet hair. Highly recommended.
Learn More About The Honeywell HEPA Allergen Remover Here
To be honest, I only invested in an air filter a few years ago. Which is a shame – it's made a big difference in my apartment, and I wish I'd gotten it sooner. In fact, I literally just ordered some new filters before writing this article!
See my complete guide to air filters for asthma here. 
That Cat Life in an Asthmatic House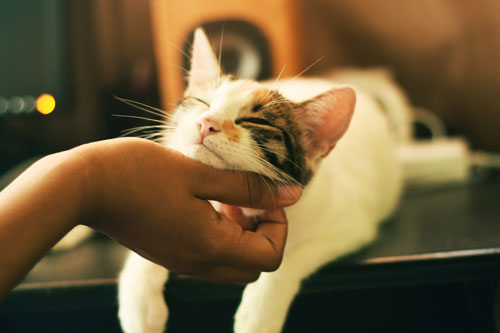 Like I mentioned, some houses trying to combine cats and asthma will want to restrict their cat's movement, keeping them out of bedrooms and off furniture. And if you have asthma, there are other ways your cat's life might be a bit different (but no less happy).
First, you'll want to groom your cat more than the average bear. Lily, little monster that she is, doesn't really like being brushed – so we sneak it in while she's eating. Do what you can.
Speaking of the little monster … we let Lily keep her claws (which I hope you'll consider too) … and giving her a bath just isn't something we're interested in.
But many asthmatic households with pets will use special shampoos to neutralize pet dander. This non-toxic anti-allergen pet shampoo, for example, is recommended by allergists. 
And talk to your vet: some will prescribe your cat a drug called Acepromazine, which is a sedative that affects their saliva. 
I'm not sure I'd go this route, but that's because using the steps above, Lily and I live a pretty easy breezy life.
The bigger takeaway it that you should talk to your vet, and probably your doctor, too, if you'd like to learn more about how to manage asthma symptoms with pet ownership.
More Steps
If you have both a cat and asthma, then it's going to be extra important that you're doing everything you can to manage your asthma symptoms naturally. These 6 strategies I used to get off albuterol completely are a really good place to start.
If you have a severe cat allergy, you can also explore things like allergy shots, which can help you build up immunity. 
Like always, you should talk to you doctor first about cats and asthma, before making any big life changes. And of course it's possible that your asthma and/or allergies might be so severe to take cat ownership out of the picture. I just know that at my worse, I was needing my puffer multiple times a day, and I still managed – happily – to keep my cat at home. 
So little Lily and I are living proof: there is life with cats after asthma!
And if you have asthma and a cat, please share with our community in the comments below: what do you do to make it work?